With consistently warm weather all year round, pristine beaches, access to the Great Barrier Reef and an abundance of lush tropical  rainforest, Queensland could possibly be the perfect state in Australia for your next healing getaway and there are certainly many top quality health retreats in QLD to choose between.
Several of the best health retreats are within driving distance from the Brisbane or Gold Coast airports, in the beautiful Tallebudgera Valley, the Currumbin Valley, the Noosa hinterland and surrounds…
With nature at your doorstep, you can relax, unwind and experience all of the healing benefits associated with a quality wellness retreat.
The are many options in Queensland, so to help you out we have hand picked five of the best. Here are…
5 of The Best Health Retreats in Queensland
To help you with your decision making, we have identified:
Three of the best overall health and wellness retreats in QLD;
A great mediation retreat in Pomona QLD; and
A weight loss and detoxification retreat in Kin Kin QLD.
You can find our reviews below…
Best Health and Wellness Retreats – QLD
1. Gwinganna Lifestyle Retreat, Tallebudgera Valley, QLD
If you are looking for a health retreat on the Gold Coast, then you can't look past the multiple award-winning Gwinganna Lifestyle Retreat which is nestled in the Tallebudgera Valley.
Being one of the premiere health and wellness retreats in Australia, it is focused on helping you get away from the busy world outside and reconnecting with your soul.
The retreat is renowned for being one of the most innovative wellness destinations, with retreat packages including detoxification, meditation, stress reduction and positive ageing protocols.
Womens' discovery programs, optimum well-being, time out weekends, yoga retreats and winter wellness retreats are offered as part of their diverse range of health retreat packages.
With retreats from 2 to 7 nights in duration, you are sure to find something that fits what you need right now. They even have a 3-night retreat where you can be trained on healthy eating, nutrition and the use of herbs in healing the body.
Gwinganna Lifestyle Retreat comes highly recommended from the Best Health Retreats team and is one of the best health retreats on the Gold Coast, QLD.
2. Eden Health Retreat, Currumbin Valley, QLD
Looking for a secluded place to rest, repair and reconnect with your inner self in comfort and tranquillity? Then Eden Health Retreat may be the perfect place for your next health retreat.
The Eden Health Retreat is a 7 days and 6 night retreat, from Sunday to Saturday. You will be staying in luxurious accommodation and be served healthy cuisine throughout your stay.
Their team of expert health professionals will provide you with support throughout your stay and you will also have access to all of their facilities such as gymnasium and thermal swimming pool.
Group activities are also available and include bush walking, cardio classes and yoga.
The tranquil environment is enough to get anyone re-connected with nature and relaxed. The ban on access to social media at the retreat is also great for those wanting a digital detox, so that healing is fully focused on the body and mind.
Located on 400 acres of lush sub-tropical rainforest, the Eden Health retreat experience is one of the best wellness retreats in QLD.
3. Miamo Wellness Retreats, Port Douglas, QLD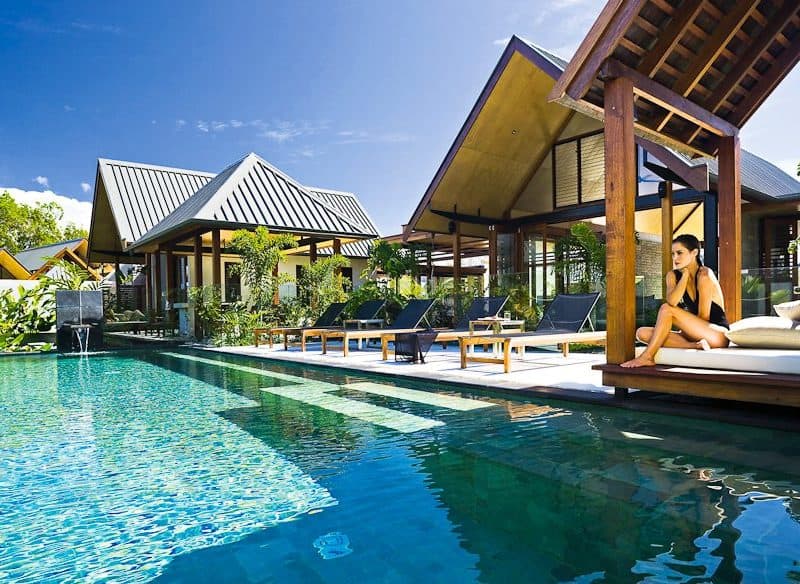 If you are looking to de-stress or lose some weight, then the Miamo Wellness Retreats are definitely worth a look.
Their retreats are hosted at three lush locations (think rainforest, boutique apartments and luxury villas) in the Douglas Shire of North Queensland. Their accommodations are called the Botanical Ark Retreat, Casa Blanca – The Tropical House and and Niramaya Resort & Spa.
They can also bring the wellness retreat to whatever location you would like, which is great if you are looking for a corporate health and wellness retreat.
They have three main 5-day retreats, a 'Re-Connect For Busy People' retreat, a 'De-Stress' retreat and the 'Weight Management for Busy People' retreat.
Their four-night retreat packages include all meals and snacks, accommodation with unlimited access to organised workshops and seminars, a massage, all facilities, transfers to and from Cairns Airport and 3 months online support after your retreat..
Wireless internet is available at all locations, however, to truly escape the daily grind they recommend that the retreat be used as a 'mobile free' escape. You may not even have mobile coverage anyhow.
The area surrounding the Douglas Shire includes two world heritage sites, the Daintree Rainforest and the Great Barrier Reef which is the world largest reef system with more than 2,900 individual reefs and 900 islands. The locations of the retreats really are the perfect place to kick off a healthier mind & body regime.
Best Meditation Retreat  – QLD
The best meditation retreats provide a practical way to achieve peace of mind, de-stress your body and live a happy and productive life. You may also be ready to embark on a spiritual journey that connects you back to your real-self. Meditation helps you to quieten a noisy mind and enables your heart to experience inner comfort.
We chose the Vipassana Centre as one of the best meditation retreats in Queensland.
4. Vipassana Centre Queensland, Pomona QLD
You can learn the technique of Vipassana meditation at The Vipassana Centre Queensland. This type of meditation retreat will help you to achieve peace of mind and set you on course to living a happy and positive life.
Just as we use physical exercises to improve our bodily health, Vipassana can be used to develop a healthy mind.
The meditation retreats are generally taken as a 10 day course and during those times, you will be learn how to relax and let go of any fears and worries. The course is conducted in silence and a wide range of vegetarian cuisine is provided.
All Vipassana courses worldwide are run on a strictly voluntary donation basis and at the end of the course if you have benefited from the experience you can make a donation for the next course. Spots are booked up months in advance, so it is a good idea to plan ahead.
The retreat is located at Dhamma Rasmi ('Ray of Dhamma') in Pomona, in the sub-tropical hinterland of the Sunshine Coast. The accommodation is set in landscaped gardens within 60 acres of bushland. Being approximately 140 km north of Brisbane, the retreat is approximately two hours drive from Brisbane.
Best Weight Loss & Detox Retreat – QLD
If you are looking to regain your confidence by shedding some weight, then a weight loss retreat is a great option. Part vacation and part healing retreat, you will return home more relaxed and more confident in your own body.
We chose the Living Valley Health Retreat as one of the best weight loss retreats in Queensland.
5. Living Valley Health Retreat, Kin Kin QLD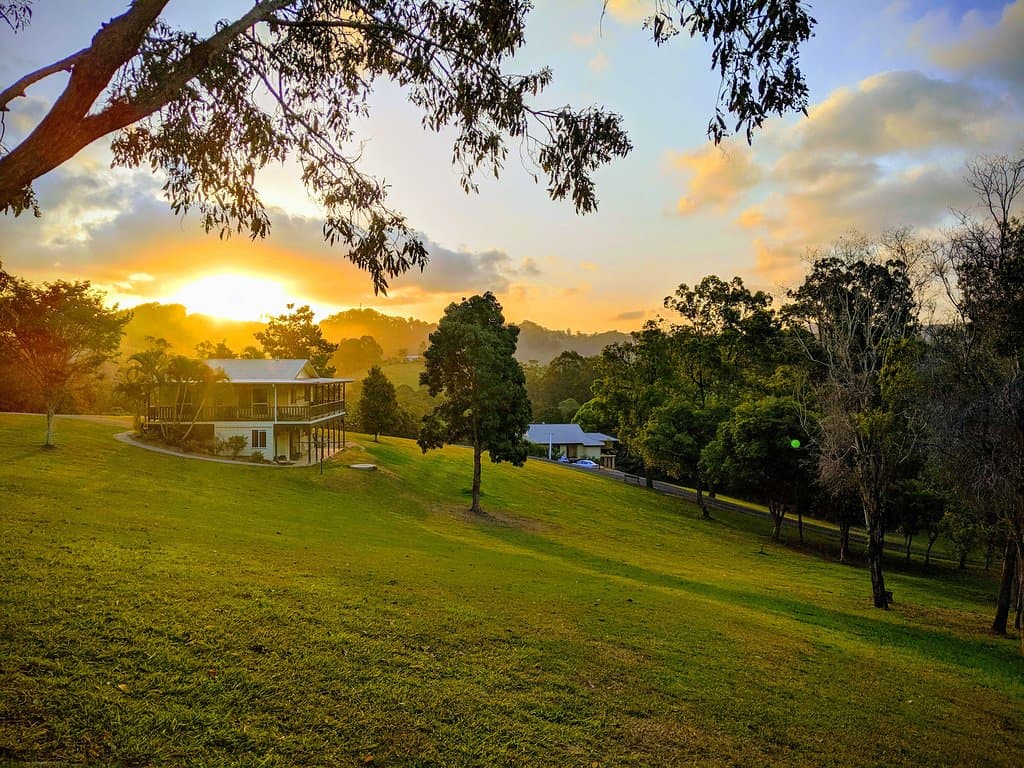 The Living Valley Health Retreat in Queensland is a place designed to elevate you to a higher state of physical, emotional and mental wellness. They have a team of over 40 competent personnel that attend to approximately 20 guests each week.
Having a diverse range of retreats, they offer weight management and detoxification retreats, along with women's and men's health retreats, mental wellness retreats, couples retreats and day spa retreats.
Guests may schedule their stay in the ranges of 3, 7, 14, 21, 28 days or even longer, to restore and cleanse the body.
The 'Power Cleanse and Detox Retreat' is a medically designed detox program that includes personal meal planning and naturopathic consultations.
Their 'Weight Loss Retreat' has being running for over 27 years now and can be taken as a 14, 21, 28. 35 or 43 day program. The program provides private fitness training sessions, a psychology package and a cleansing and restoration protocol for the digestive and lymphatic system. Several extra treatments and weight management workshops are also provided.
Set in 145 acres of lush green hills, valleys and pristine countryside, the Living Valley Health Retreat is only 30 minutes from Noosa, with complimentary transfers from the Brisbane and Sunshine Coast airports provided every Sunday
Queensland has it all really when it comes to health and wellness retreats. When you think of QLD health retreats – think expansive beaches, lush tropical rainforest and almost perfect weather all year round, provide the perfect setting for health and healing.
All you need to decide on is what kind of retreat that you need – meditation, mental health, general health and wellness, yoga, fitness….the list is long and there are plenty of top quality health and wellness retreats in Australia to choose between.
With many health retreats in Queensland to choose between, we hope that we have provided you with some inspiration for your next wellness getaway.
Drop us a comment below with any questions that you have – we would love to hear from you…
---
Disclaimer: This article is not intended to provide medical advice, diagnosis or treatment. Views expressed here do not necessarily reflect those of Best Health Retreats or its staff.